In an effort to keep track of exactly what I've read and done, I'm going to try to start doing a monthly post summarising what I've read each month, as well as any events I've been to etc.
Warning: May contain spoilers!
Here goes.
1, One Con Glory by Sarah Kuhn.
This is a wonderfully geeky novella set in the glamorous geek convention circuit. I enjoyed the hell out of this and have added Sarah Kuhn's forthcoming novel Heroine Complex (Out July 2016) to my "Must buy and read on day of release" list.
Check it out.
Diehard fangirl Julie loves Buffy marathons, fighting about comic book continuity, and being left alone.

But more than anything, Julie loves Glory Gilmore, a mostly-forgotten C-List superheroine from the world of '80s comics.

For years, she's longed to reclaim the precious Glory action figure that's eluded her grasp so many times before. And one fateful weekend, she has the chance to do just that.

Of course, no great quest is ever simple. Before she can triumph over the forces of loudmouth nerds and clueless Mundanes everywhere, Julie will have to deal with an avalanche of unexpected obstacles. In the midst of battles for videogame supremacy and frustrating encounters with a supremely irritating TV pretty boy, she'll be forced to reconsider her fandom and reevaluate her life.

She might even have to talk to people.
2, Ack-Ack Macaque by Gareth L. Powell.
This was an enjoyable rip-roaring adventure, The stakes are high, the risks are real!
A ride that will take you from a virtual game simulation of World War 2 to the cyber-steam-punk(ish) 2050's of Europe. This book has everything; Digital ghosts of humans, Nuclear-Powered Blimps, corporate skullduggery, a Cult, Cyborgs and an uplifted sentient one-eyed Macaque Monkey with anger/rage issues. (Don't call him a Monkey!)
This is alternative-History/Science Fiction with a dash of Cyber-Punk/Steam-Punk flavour thrown in for good measure.
Think Biggles, If the adventures of Biggles had been dragged kicking and screaming into the 21st Century!
Although this book is book 1 of 3, Ack-Ack Macaque can be enjoyed as a stand-alone if you don't like multi-book series.
In 1944, as waves of German ninjas parachute into Kent, Britain's best hopes for victory lie with a Spitfire pilot codenamed 'Ack-Ack Macaque'. The trouble is, Ack-Ack Macaque is a cynical, one-eyed, cigar-chomping monkey, and he's starting to doubt everything, including his own existence. A century later, in a world where France and Great Britain merged in the late 1950s and nuclear-powered Zeppelins encircle the globe, ex-journalist Victoria Valois finds herself drawn into a deadly game of cat and mouse with the man who butchered her husband and stole her electronic soul. Meanwhile, in Paris, after taking part in an illegal break-in at a research laboratory, the heir to the British throne goes on the run. And all the while, the doomsday clock ticks towards Armageddon.
Awesome fun!
3, Fireside Fiction – Magazine, issue 29.
This is a collection of two flash-fics and two short stories, published by Fireside Fiction online. It's free to read via their website at http://www.firesidefiction.com/ Check them out and consider contributing to their running costs via their Patreon page.
Here's a run-down of what is in this issue;
This is Not a Wardrobe Door by A. Merc Rustad.
Short Story – A post-portal fantasy that looks not just at those no longer able to visit the fantasy land they discovered, but their friends in that land dealing with the pain of not seeing their friends from our world! This story made me cry because of all the feels.
All That Holds Me Together by A. K. Snyder.
Short Story – A story that explores emotional pain, grief and the healing process through a Tattoo. A powerful story conveying the main characters feelings and suffering clearly to the reader.
Gold Farmer's Daughter by Aiden Doyle.
Flash Fiction – Warcraftish wedding planning adventure! Set in an MMORPG, hosting a wedding can be a pretty tricky thing indeed! A fun adventure story that will appeal to anyone who has ever played an MMORPG!
Human Resources by Erica L. Satifka.
Flash Fiction – In an economy where something might cost you an arm and a leg (Literally – body parts as currency!), what would you be willing to part with. Thought provoking.
4, Hive Monkey by Gareth L. Powell.
Hive Monkey follows on from the events of Ack-Ack Macaque and is set about a year later.
Just like the first book, Hive Monkey is a fast paced adventure ride. This time around the Monkey has to deal with The Gestalt. a pseudo-Borg like collective from an alternative timeline.
The airships are bigger, the explosions louder and the cigar smoke is … smokier?
Hold on to your flying hats for Hive Monkey!
I strongly recommend reading Ack-Ack Macaque before Hive Monkey. Whilst you CAN read Hive Monkey on its own (There is some exposition about the world in which it is set) – Ack-Ack Macaque lays a lot more world building on you, making Hive Monkey much more enjoyable!
That's right, I enjoyed Ack-Ack Macaque so much I dived into the sequel soon after!
In order to hide from his unwanted fame as the spitfire-pilot-monkey who emerged from a computer game to defeat the nefarious corporation that engineered him, the charismatic and dangerous Ack-Ack Macaque is working as a pilot on a world-circling nuclear-powered Zeppelin.
But when the cabin of one of his passengers is invaded by the passenger's own dying doppelganger, our hirsute hero finds himself thrust into another race to save the world – this time from an aggressive hive mind, time-hopping saboteurs, and an army of homicidal Neanderthal assassins!
5, Lustlocked by Matt Wallace.
In 2015, Tor.com launched a line of novellas – one of which was Envy Of Angels by Matt Wallace. Lustlocked is the follow-up to that novella. It tells the continuing adventures of the Sin Du Jour catering company, the only catering company that pays hazard pay. (If you haven't already, go read Envy Of Angels to meet the crew!)
This time around it's all hands on deck to cater for the biggest celebrity wedding of the year that you'll never hear about! Featuring a minor role for the everyone's favourite Goblin King, an inadvertently timed but respectful homage to David Bowie. (This was written BEFORE the sad passing of the Legend.)
This kindle ebook of Lustlocked also included the short story Small Wars, a fun little story about sourcing an important ingredient for the Wedding Feast in Lustlocked.
Lustlocked is even better than Envy Of Angels (Which was bloody good!) Read them now and expand your literary palate! (See what I did there?)
At a Goblin Royal Wedding party a magical food additive turns the humans in the room into horny 6 foot lizards, and all they want to do is have sex.

With anything. For as long as they can.

And as being screwed to death isn't something that interests Sin du Jour staff, something must be done, but the building's magical defences have kicked in, sealing off access to the outside world.
6, Small Wars by Matt Wallace.
Small Wars is a short story set roughly parallel/In between parts of Lustlocked.
The Sin du Jour procurement team has been tasked with acquiring a substantial cache of rare Welsh gold for a rather important event, but when they stumble upon rivals factions of the smallest warriors they've ever encountered, they'll need to bring out the big guns if they're to survive.
Read Small Wars for free online at Tor.com or when reading Lustlocked. (It's included with Lustlocked as a bonus story.)
7, Rosemary and Rue by Seanan McGuire.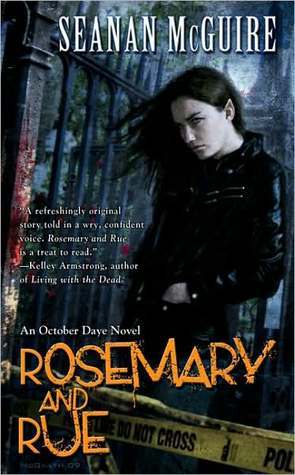 I've slowly been re-reading Rosemary and Rue over the course of January as part of the SF/F Read Along group on Goodreads. I'll go into that more on a different post.
Other Bookishness?
Well, that's everything I've finished reading in January 2016. I also started reading The Recollection by Gareth L. Powell, but It's highly unlikely I'll manage to finish it before midnight tonight.
I've purchased a supporting membership this month for the 2016 Worldcon. But as of typing this post, I'm still awaiting my log-in credentials that will allow me to nominate works for the 2016 Hugos.
I've also backed two kickstarters this month. POC Destroy Science Fiction! from Lightspeed Magazine. In The Stars I'll Find You by Bradley P. Beaulieu.
There's also the Patreons I've backed this month; Fireside Fiction (Fiction), Murr Lafferty (Various Podcasts), Emma Newman (Tea & Jeopardy Podcast), Uncanny Magazine (Fiction), Kameron Hurley (Fiction), Strange Horizons (Fiction).
On January the 30th, I went to the York Pub Meet at Brigantes Bar in York (Run by members of the BSFA & BFS). There were readings and Q&A's by Marc Turner (author of The Chronicles of the Exile fantasy series) and Alison Littlewood (author of A Cold Season, Path of Needles and a lot more.). There were also book give-aways, always a crowd pleaser!
Well, that's my January in books, reading and related stuff, what have you been reading? Have you attended any signings, book launches or any other events?