In an effort to keep track of exactly what I've read and done (Anything geeky), I'm doing a monthly post summarising what I've read each month, as well as any events I've been to etc. This is my post for April! (Put together bit by bit over the course of the month, so I don't spend hours on it at the end of the month!
Warning: May contain spoilers!
Here goes.
1. Mothership Zeta: Issue 2 by Escape Artists, Inc.
The first ezine effort from the popular podcast production company, Escape Artists, Mothership Zeta offers speculative fiction that has a focus on fun. Fun is subjective, naturally, but we hope these short stories, reviews, and nonfiction pieces offer a look at the lighter side of science fiction, fantasy, and horror.
I enjoyed Issue 1 so much that as soon as the next issue came out, I purchased it immediately! Issue 2 of Mothership Zeta is another great collection of short fiction and non-fic articles and reviews. Bring on issue 3 please!
2. Runtime by S. B. Divya.
The Minerva Sierra Challenge is a grueling spectacle, the cyborg's Tour de France. Rich thrill-seekers with corporate sponsorships, extensive support teams, and top-of-the-line exoskeletal and internal augmentations pit themselves against the elements in a day-long race across the Sierra Nevada.

Marmeg Guinto doesn't have funding, and she doesn't have support. She cobbled her gear together from parts she found in rich people's garbage and spent the money her mother wanted her to use for nursing school to enter the race. But the Minerva Challenge is the only chance she has at a better life for herself and her younger brothers, and she's ready to risk it all.

Runtime is S. B. Divya's exciting science fiction debut.
I just finished reading this after acquiring an uncorrected proof copy whilst at Mancunicon (The 2016 British Eastercon) from the freebie table. I'll re-read the finished/final version upon its release and revisit this review at that time.
That being said and being put out there, I really, really enjoyed this novella.
Runtime is set in a future where humans routinely enhance their physical bodies and senses with embedded (inside the body) and external techs. It follows the trail of Marmeg, a naturally born human keen to enter and win a prestigious wilderness/survival race for the enhanced. (Think Amazing Race – but in Iron Man like non-flying exo-suits.)
Marmeg just wants to escape her upbringing and climb the societal ladder. Get an education and escape poverty with her family. But to do that she has to risk everything.
This story explores and touches on several ideas – such as ethics and morality within a competitive environment. Gender Identity and human directed evolution. Not to mention social mobility and human rights.
There's a LOT going on here in just 116 pages, so much so that this could work better as a full length novel rather than a novella! That's why I desperately hope this story is continued, either as a long series of novellas or an expanded novel at some point in the future.
3. Lightspeed Magazine, Issue 70 by John Joseph Adams.
LIGHTSPEED is an online science fiction and fantasy magazine. In its pages, you will find science fiction: from near-future, sociological soft SF, to far-future, star-spanning hard SF–and fantasy: from epic fantasy, sword-and-sorcery, and contemporary urban tales, to magical realism, science-fantasy, and folktales.
One of the best issues of Lightspeed Magazine so far, the e-edition also features a reprint of Seanan McGuire's Rat Catcher, a 10k(ish) word story of Tybalts past. (A must read for any October Daye fans).
Then there's all of the original short fic you come to expect, plus a host of reviews to get your teeth into. This is a great issue to try if you're still sitting on the fence with regards to short-fiction!
4. Lock In by John Scalzi.
Fifteen years from now, a new virus sweeps the globe. 95% of those afflicted experience nothing worse than fever and headaches. 4% suffer acute meningitis, creating the largest medical crisis in history. And 1% find themselves 'locked in' – fully awake and aware, but unable to move or respond to stimulus.

1% doesn't seem like a lot. But in the US that's 1.7 million people 'locked in' – including the President's wife and daughter.

Spurred by grief and the sheer magnitude of the suffering, America undertakes a massive scientific initiative. Nothing can fully restore the locked in. But then two new technologies emerge. One is a virtual-reality environment, 'The Agora', where the locked-in can interact with other humans, whether locked-in or not. The other is the discovery that a few rare individuals have brains that are receptive to being controlled by others, allowing those who are locked in to occasionally 'ride' these people and use their bodies as if they were their own.

This skill is quickly regulated, licensed, bonded, and controlled. Nothing can go wrong. Certainly nobody would be tempted to misuse it, for murder, for political power, or worse …
A mystery novel masquerading as a sci-fi thriller. There's a lot going on in this novel, many different themes and ideas being explored in a near future sci-fi setting.
The main character, Shane is fresh in his new job, the book literally opens on his first day. The action and intrigue begins slowly sliding into a chasm of chaos from there, an enjoyable who-dunnit.
5. The Jewel And Her Lapidary by Fran Wilde.
Buried beneath the layers of a traveler's guide is a hidden history: two kingdoms, powerful gems, and the even more powerful Lapidarys who bind them. Lin and Sima, caught in a web of intrigue and deceit, must find a way to escape the traps set by the past and save their kingdom.

An epic fantasy, in miniature.
Another novella from the Tor.com publishing line. This one comes out in May, It's beautifully written and full of fantastic visual descriptions of the world in which the story is set.
I didn't not really like the story myself – It just didn't resonate with me. But that is completely a personal taste thing. Looking at this novella objectively – It is wonderfully well written, well paced and structured – I can easily see this making award short-lists and getting fantastic buzz and word of mouth, but it just wasn't for me.
Maybe I'll return to this novella at a much later date when I'm in a different place mentally, Maybe then I can better appreciate the obvious beauty this novella portrays.
6. Hit by Delilah S. Dawson.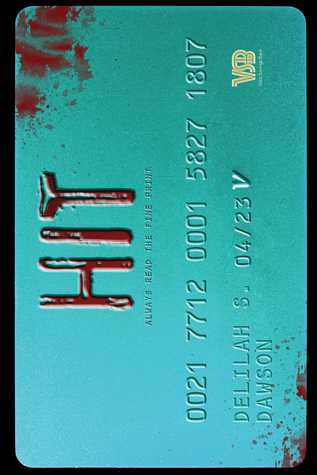 In order to save her mother, a teen is forced to become an indentured assassin in this sizzling "movie ready" (Kirkus Reviews) dystopian thriller.

No one reads the fine print.

The good news is that the USA is finally out of debt. The bad news is that it was bought out by Valor National Bank, and debtors are the new big game, thanks to a tricky little clause hidden deep in the fine print of a credit card application. Now, after a swift and silent takeover that leaves 9-1-1 calls going through to Valor voicemail, they're unleashing a wave of anarchy across the country.

Patsy didn't have much of a choice. When the suits showed up at her house threatening to kill her mother then and there for outstanding debt unless Patsy agreed to be an indentured assassin, what was she supposed to do? Let her own mother die?

Patsy is forced to take on a five-day mission to complete a hit list of ten names. Each name on Patsy's list has only three choices: pay the debt on the spot, agree to work as a bounty hunter, or die. And Patsy has to kill them personally, or else her mom takes a bullet of her own. Since yarn bombing is the only anarchy in Patsy's past, she's horrified and overwhelmed, especially as she realizes that most of the ten people on her list aren't strangers. Things get even more complicated when a moment of mercy lands her with a sidekick: a hot rich kid named Wyatt whose brother is the last name on Patsy's list. The two share an intense chemistry even as every tick of the clock draws them closer to an impossible choice.
Hit is a fun YA novel that plays on the debt crisis of the US to a dystopian end. Think Big Brother/Bankpocalypse!
Big banks have just bought out the US governments debt and thus the government. Debtors are given three choices: Pay off all debts immediately, Become a bounty hunter for the bank for 5 days, or die!
I loved this book and I'm definitely going to pick up the follow up novel "Strike" as soon as I can!
This book contains violence, finance, junk food, kissy kissy scenes and an adorable dog. Buy this book before the bank comes a knocking! Oh, and always read the small print!!!!
(I've already ordered the sequel, Strike – as soon as it arrives I'll be reading it straight away!)
7. Every Heart A Doorway by Seanan McGuire.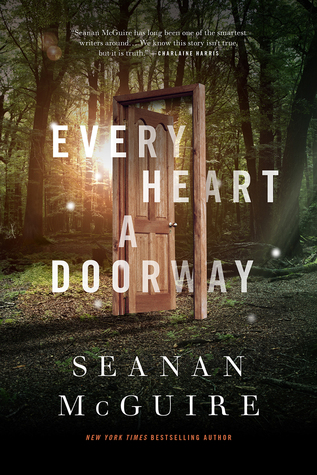 I've already read this before thanks to a friend lending me an ARC, but this was finally released this month – SO I READ IT AGAIN! It's that damned good folks! I've got the ebook on my kindle now and I've also ordered a physical copy because I want to hold it, I want to hug it so hard!
What Else Hisham?
Ok, April was a rough month for me. Work wise I had nothing BUT anti-social shifts, with either 4am (or earlier) starts – to the opposite extreme of night shifts. (There were a small number of day shifts in between.)
Shifts like that really hamper my ability to read as fast as I normally would, which is why the majority of this months reads were short story collections or novellas.
April was also the month of my birthday, Star Wars: The Force Awakens release on DVD AND the cinema release of Captain America: Civil War!* (Which Is AWESOME!!!!)
I didn't attend any geeky events this month, no conventions or book launches/signings as I recover financially from Mancunicon in March.
April did see me attempt to write and finish a short story. I've actually managed to plot out to my almost satisfaction a story with a beginning, middle and end – I'm hoping to have it finished soon. (I have the first week of May off work – so no excuses eh?) Once I've finished it, I might even be brave enough to ask others for their opinions… probably not!
Anyway, that was April. What did you read? Did you go to any book signings/author events? Let me know!
*It's called Captain America: Civil War. But I'm going to always think of it as Avengers: Disassembled! 😉